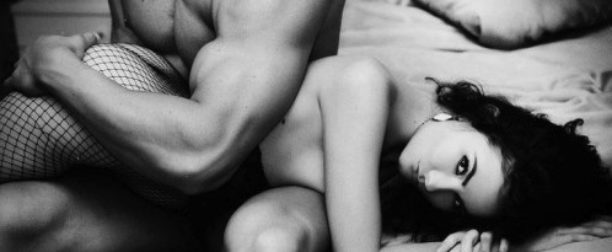 I'm a female… a submissive female at that.
But I do have questions.
Here's the scenario. I used to be in a really abusive relationship, but I loved my man for his Alpha ways – the way he carried himself around women and men. He wasn't one of those who beat women and couldn't fight a man. He held his own quite nicely. What I didn't like was he would get really mad over the littlest and dumbest things, hence the beatings. I'm talking some real Lifetime Channel stuff! Lol!
After the last incident, I left and never went back, though he tried for a few months to get me to move back. Anyway, since then any man who wasn't strong like him didn't last. I'd run into someone who was an Alpha or a Dom, but they were turn it on once a week type of men. It wasn't in their everyday nature. So what is wrong with me? What am I looking for? Are there truly Alpha males/Dominant men who live as an Alpha or am I in lala land because of that relationship?
Hi L,
First, I truly am sorry you were physically abused. I am not one of those men that believe women never deserve to be smacked or hit, especially if they start with the smacking or hitting.
I don't believe men should abuse weaker men either. I believe our strength should be used to better those around us. I have also made more than one man bend to my will in a conflict, but I try to avoid physical conflict if at all possible.
I am glad you left, and while I have been in a few relationships that I personally should have left much earlier, it is very hard to move on from those we have attraction, pair bonding and love for – even if the person is over all unhealthy for our life.
Turn it on once a week type of Alpha
I was once this type of man, especially as I began to learn the confidence and human nature behind sexual attraction. While it is dark and little discussed, hard, physical and sometimes brutal sex can be an extreme attractor to women – if they already have attraction for their man. I have never had a woman complain about me smacking her ass, pulling her hair or choking her while fucking her hard. In our core nature, we are animals. True, we are a little more enlightened, but we are animals.
As I was learning these sexual attractors, I would "bolster" my Alpha and confidence in situations I knew it benefited me… like first meeting a girl at a bar. I would learn a cocky & funny or dominant line and turn it on full. I didn't have the core to just be dominant and live according to my rules. Still not perfect at that, but becoming a better man is a lifelong journey.
These men that you meet that "turn on the dominance" occasionally are possibly on that journey, or they have learned that moment of dominance gets them laid. Maybe both.
What's wrong with you?
Nothing, from what you have said. I have stayed, or continue to try, to be in mentally abusive relationships with people that I loved, even when I knew they were not right for me. Less so as I have learned more, but enough that I think about this often – in like how much bullshit and drama I will allow before shutting the girl down.
Sounds like you were with a very dominant man. Extreme dominance and the ability to back it up are MAJOR SEXUAL ATTRACTORS. It turns girls on. Even the girls that don't like to admit it out loud like to surrender to a dominant man in the bedroom.
The problem was with him – the physical abuse. Now, we don't have his side of the story, and you make it sound like a beating so bad you went to the hospital or stayed in bed for a week. Maybe it was just a smack… it doesn't matter for this point. If you were not physically attacking him, you didn't deserve physical violence. If you were really misbehaving (lying, cheating, seeing other men, constantly nagging, etc.) he should have just left you.
I don't mean any disrespect, but without seeing all of the dynamics, I have no way to know what really happened. This little skit is by Bill Burr, and he says what I feel… most men do not go off for no reason. Most.

Are There Really Alpha's?
Yes, there are, and there are many that won't beat you. Dominant, sexy men are rare. But the nature of a dominant, sexy man is to put his desires for his life first.
Recently, my girlfriend of 5 ½ years broke trust with me. The details are not important, but I will tell you I felt rage. As much as I worked to control my emotions, I was hurt and angry. I could have become violent, or made her life very difficult. I chose not to do either. I just let her go.
And that is the biggest rub with Alpha or dominant men. We don't tolerate a lot of drama, and we especially don't accept anything even close to disloyalty. The only three things a girl usually brings to a relationship is; her looks, sexuality, and loyalty. Very few girls are actually smarter than the men they date, nor do they have or make more… usually women want to date up in the sexual market place. It is that perceived higher value that attracts the women to the men.
One thing you will have to mentally keep in mind is the "polite" dominant. I tend to be rather charming and pleasant at first – especially in business or non-sexual venues. I tease, challenge and generally have a good time, but I do not create a lot of conflict with girls at first. Not at least till I see the attraction and want to up the tension.
With your past experience, you may be seeing "polite" or "charming" as weak… when in reality it is a normal way of interacting with new people… especially if he is judging you and seeing what you are about.
No matter how dominant I think I am, I really don't want to be with a negative or rude person. So I don't typically turn on the sexual tension till I am sure this is a girl I would like to know a little more. Looks may get me to approach, but I don't go around telling women I am asexual Dom till I have already vetted them and want them in my life.
So yes, Alpha's are out there, but they are in demand and rarely are they lonely. I have no idea how old you are, nor what you look like, but if you are going to attract a truly dominant man work on those 3 items in that order… looks, sexuality, loyalty. And the loyalty comes into play after you start dating him.
I will also tell you there are a few types/places where I have met the most dominant men… business owners and executives, military and gun ranges, the gym, biker crowds and sports. I am sure there are more.
Of course, not all men in these roles and situations are dominant or Alpha, yet these are highly competitive, socially interactive lifestyles and activities that require confidence, dominance, will power and courage to be successful at.
If you have any sincere interest in them, I would get involved. I will tell you, at the tactical gun range I teach and train at, most of the girls are very beautiful, confident and with dominant type men.
Good luck, and keep us posted. I am sure many men here would be interested in your view of dominant men.