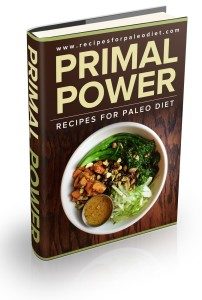 Maximum Nutrition, Maximum Results!
The Primal Power Paleo Recipes you're about to learn work by two fundamental principles:
1. Put key nutrients into your body…
2. Reduce or eliminate toxins that can damage the body.
The first principle is easy to understand. Natural foods, eaten in the correct ratios, organic and untouched by the horrors of modern food processing are loaded with essential nutrition. This combination of nutrients and ratios optimizes the bodies natural sexual ability.
The second principle is just as basic. It means that when we avoid toxins inherent in packaged and processed food, our bodies start to detoxify. This allows our cells to expend less resources in actually fighting off foreign substances and spend more energy on rebuilding, growth and rejuvenation.
The result? We look better, feel better, and perform better.
Simple, Easy, Delicious Recipes
Enjoy a wide variety of easy-to-make meals that will boost your performance and get rave reviews from friends and family every time!
Easy To Follow Directions
Remove the guesswork. We walk you through each recipe with crystal-clear steps, making preparation simple!
Absolutely Everything You Need
All of the foods and recipes follow the healthiest nutrition plans in the world. Start achieving the health, energy, vitality and sexual performance you desire!
[ Members Only Content – please sign up to view it… ]